A Guide To The Best Campgrounds For Your Northern California Teardrop Camping Adventure
As avid campers, we are always on the look out for those 'unicorn' campsites. You know the ones… breathtaking views, seclusion, convenience, and full hookups. Northern California has an overwhelming ABUNDANCE of camping options, whether you want to be in the mountains, at the beach or somewhere in between. Look no further, we have collected a list of our favorite campgrounds within a few hours of Sierra Teardrops' headquarters in Auburn, Ca. They are loosely categorized by type. Here are our suggestions for campgrounds!
WOODSY
Santa Cruz Redwoods– Has full hookups, including sewer. They have clean bathrooms, hot showers, well kept facilities and a great management team. It's very family friendly with lots to do in the area. You can walk down to the San Lorenzo river, go for a hike, or trek into the quaint town of Felton. They have an all you can eat Pancake Breakfast in their Clubhouse on weekends. The Historic Roaring Camp Railroad is just across the river, and can take you to the Santa Cruz Beach Boardwalk. The Mystery Spot in Santa Cruz is about a 20 minute drive away.
Meeks Bay at Lake Tahoe – Open May through October. There are two sides to this resort. One side has full hookups and pets are not permitted. The other side has no hookups, and pets are permitted. When we stayed here
brought our labradoodle Zoey and 'accidentally' dry camped as a result! We brought our paddle boards and enjoyed the Lake Tahoe bay with the crystal clear water. Within a short drive are some great lakefront dining and shopping.
NAPA VALLEY & WINE TASTING
 Napa Valley is about 2 hours away from our facility. If you like wine tasting, golf, shopping, spas, and amazing culinary experiences, this is a great romantic destination. Bring your bikes, or unhitch & ditch the trailer for the day to go exploring. We go here every year for the annual Napa Valley Film Festival in November.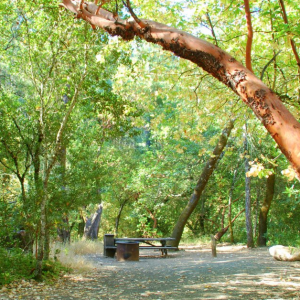 Bothe-Napa Valley State Park – Located in the heart of the beautiful Napa Valley wine country, Bothe offers camping, picnicking, swimming, and
trails that go through stands of coastal redwoods as well as forests of Douglas-fir, tanoak, and madrone. There are no hookups here, so be prepared with fresh water and consider a generator. 
Calistoga RV Park – This is truly just a parking lot with hookups and clean restrooms next to the fairgrounds. Do not expect ambiance here. The major upsides to this park are the convenient location and affordability. You can walk to charming downtown Calistoga, and enjoy all that there is to offer there including great dining, hot springs and spas. If you have your heart set on staying in Napa Valley, and if you can't get into Bothe, Calistoga RV Park is a good enough alternative, and substantially more affordable than any hotels in the area.  
BEACH
There are several beach resorts within a 2-3 hours drive. Ocean front beach resorts seem to have some compromises in seclusion or hookups, but there is nothing like dozing off to the sound of crashing waves. Coastal communities always have a special charm about them too.
Costanoa – This KOA coastal resort in Pescadero is where you go if you to camp without actually camping. They have a spa, a restaurant serving California coastal cuisine, and full activity and events calendars from guided naturalist hikes, horseback riding, kayaking, art exhibits, and mountain biking. Their 'comfort stations' even have saunas! It is about a 1-mile walk to the beach. The most visible landmark is Pigeon Point Lighthouse, just three miles north. Of course their RV sites have full hookups, including sewer. Dogs are allowed at their RV sites.  
Bodega Bay – This is a great place to see the epic migration of whales from January through May. It is also where Alfred Hitchcock filmed "The Birds" in 1961!
Olema – This family and dog friendly resort is located next to the Point Reyes National Seashore, just north of San Francisco, Olema is an ideal place to enjoy different outdoor activities like bird watching, hiking, kayaking or just relaxing on the beach. 187 campsites equipped with a fire ring and picnic table. They offer laundry facilities, as well as bathrooms and hot showers. Hookups are available at some sites. This is another favorite destination for local T@B Rallies! 
Big Sur – This is a bit further away from us at about a 4 hour drive. However, at Big Sur you get the unique combination of forested campgrounds right on the coast.
Turtle Rock RV Resort – For our guests who are considering a drive along the Oregon coast, this resort is a great stop along that route. This Good Sam Club resort is in Oregon roughly 8 hours from our facility, very close to the California border in Gold Beach. We stayed in a river front spot with a view of the ocean, and walked along the shore in the morning. They offer full hookups, clean bathrooms, and a friendly staff. Their Wifi is great and pets are welcome. 
YOSEMITE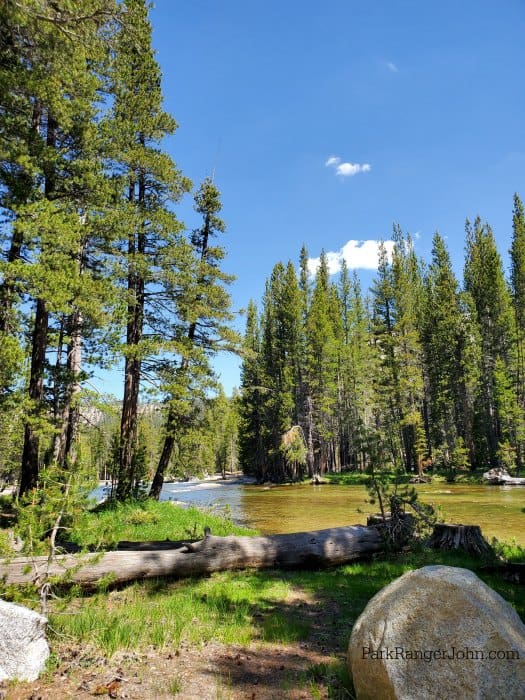 Yosemite has 10 campgrounds that can accommodate RVs and trailers. Electrical, water, and sewer hookups are not available in Yosemite, although dump stations (with fresh water) are available at Upper Pines Campground (all year), near Wawona Campground (summer only), and near Tuolumne Meadows Campground (summer only). Generator use is allowed, but only between 7 am and 9 am, noon and 2 pm, and 5 pm to 7 pm. Generator use is not allowed at other times.  You can see a list if all of the Yosemite campgrounds that accommodate RVs along with their opening and closing dates here.  Campgrounds requiring reservations are usually full from around April through September. You should make a reservation as early as possible. 
FISHING
Admittedly, we don't fish, so we have to take recommendations from those who do. The following lakes are about an hour or two from our facility. Many of our local residents visit these lakes and enjoy them a lot.
 Jackson Meadows Reservoir – Anglers will find rainbow and brown trout at Jackson Meadows Reservoir. The best bites occur in the early morning for rainbow and brown trout beginning in June. 10,000 rainbow trout in the 10 to 12 inch class, and 15,000 brown trout are planted per year, until the lake's water level begins to drop. Other species of fish taken at Jackson Meadow Reservoir include German, and brook trout, and brown bullhead. The reservoir produces good numbers of rainbows for trollers and bank fishers.
 Rollins Lake – During peak summer days the lake can be busy with recreational boaters, but early morning or late afternoon anglers find still in which to fish for brown and rainbow trout, largemouth and smallmouth bass, catfish, and bluegill. Quiet waters can be found all day long in the coves where the speed limit is 5 MPH.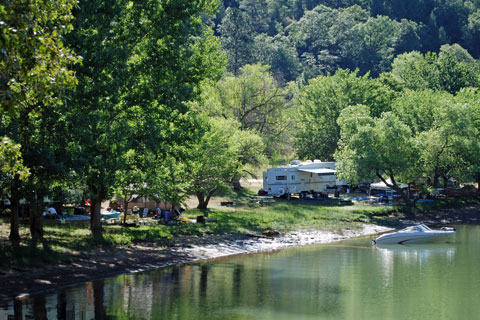 Collins Lake – More than 50,000 trout are planted every spring, which means Collins Lake has the largest private planting program North of Sacramento. Thousands of these trout are trophy sized, planted at 3 to 8 pounds and growing even larger. They have also built habitat areas for bass, crappie, bluegill and catfish them to keep them plentiful and to keep Collins Lake among the best fishing lakes in the Northstate.
Rancho Seco – Campsites are open April through October. Rancho Seco's 160-acre lake now hosts both migratory birds and weekend anglers, but was developed to support a nuclear generating facility built in the '70s. The closed plant's empty towers remain. Of the 18 RV sites, each has a barbecue, fire pit, picnic table, drinking water and electrical outlets. This fresh-water lake is home to bass, bluegill, red ear sunfish, crappie and catfish, and is additionally stocked with rainbow trout January through March.
Do you have a favorite Northern California campground to recommend? Leave us a comment and we will be sure to check it out on a teardrop trip soon! Happy Camping!